What is teeVillain all about?

teeVillain is the most nefarious limited edition t-shirt site on the web. Named after yours truly, I feature a new collection of designs every Monday; most of which reflect my own twisted appetite for art and popular culture. How long these designs remain available depends on the popularity of the design. By printing only one run, I can allow them to be more affordable, a feature that will ensure repeat customers and bolster my army of loyal and compliant devotees! Besides, the artists may have their own vile agenda; offering said designs at other t-shirt sites or their online shops. Be sure to check The Gallery for expired designs which have served their purpose for me. If you see something you simply cannot function without, the artist can most likely be contacted via telegraph, Morse code, or some other form of encrypted transmission.

So, when do you offer a new design?

At midnight (Eastern Standard Time), when the darkness swallows the previous day, a new design will emerge, bathed in the ominous glow of the moon. With it, a new timer will begin counting down, destroying all traces of the design once it reaches zero.

What kind of shirts do you use?

Since you will ultimately be the embodiment of my personal battalion of minions, keeping your torso well protected is of the utmost precedence. This is why I only use the finest materials available. All of my designs are printed on breathable, pre-shrunk, 100% ringspun cotton, regular fit tees. "Comfort in Captivity" is my motto here at teeVillain.

What's the best way to care for my shirt?

Well, I wouldn't recommend boiling them in a huge iron cauldron and drying them using the highest setting on your Radarange, and I speak from experience. Although my shirts are pre-shrunk, they will contract ever so slightly when washed and dried. Make sure to wash them in cold water with like colors, and hang them to dry. While I prefer a good hanging now and again, if you must use your clothes drying machine, tumble low is recommended.*Be sure to check out my comparison chart between an unwashed shirt, and one that has been run through my Laundry Room of Doom.™

How do you print your shirts?

Equal parts of voodoo and black magic are infused into every shirt I print. To further expedite the process, I have "acquired" a state-of-the-art automatic screen-printing machine so colossal it makes the Tesla Coil look like a kiddie ride at Purgatory Park! All of my prints are done in-house by my talented team of modified disciples. Unparalleled quality and the highest standards are paramount here at teeVillain. After all, I want you looking sharp when I take the world.

When will my shirt arrive?

Since I upgraded my shipping process, formerly being dropped via Zeppelin, to UPS Mail Innovations, my turnaround time has decreased radically. It also helps to keep the cost down for the customer, as well as for me. I mean, have you checked the price of Hydrogen these days? It's criminal! Delivery from the time you place your order could take up to 15 business days (Not including Weekends & Holidays), depending on your location. On rare occasions this time may be longer due to large orders or circumstances beyond our control. Of course, International orders will take much longer, as some countries are already becoming suspicious of my sinister plans.

To where do you ship?

The world is a large place. When one has designs of global domination, the exclusion of anywhere in the world would be foolish, if not counter-productive. My thoughts are that I will ship to any place that receives mail. If for some reason your country is not on our shipping list, let me know. I have my ways of finding you.

Will you combine shipping on multiple orders?

I simply cannot combine shipping on orders from multiple days.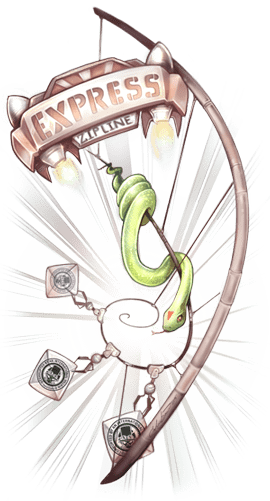 What happens if my order gets returned?

If your order happens to find its way back to me, I will notify you via electronic mail. If it was returned due to an error on your part, I will gladly re-ship your order. However, you will be responsible for any additional shipping costs, and may be subject to an indeterminate number of lashings, depending on the severity of the error.

*Be sure to check out my handy chart to find the applicable error to lashings ratio.

Is my credit card info secure?

Unequivocally. I use BrainTree (a PayPal Company), a near invulnerable standard in online payment processing. None of your card information is stored on my servers, and none of my servants are stored in the basement.

Do you accept Paypal?

Indeed, I do. In addition to accepting standard PayPal payments, I use PayPal for all credit card transactions.

What's your Privacy Policy?

I realize there are certain factions currently active with aspirations similar to my own; their ever-watchful eyes fixed on the teeVillain. To rent, sell, or share any of your information to these charlatans, or anyone else would be an exercise in self-nullification. I want you all to myself.

Do you have a Return Policy?

Due to the custom printing and limited edition nature of our products, all sales are final. Before placing your order, please refer to the size chart beneath the garment image during checkout to ensure that you select the best fit and do not forget to verify your address.
I can sometimes make an exception with an exchange if we have inventory available. However, I do not often have inventory available, but I will always do everything that I can to help you.
*Any undergarment items such as Period Panties and other underwear items cannot be returned or exchanged.

Can I exchange my shirt for a different size?

While I can't guarantee we will have your size, I will do my best to accommodate you. Often times I do print a few extra shirts in various sizes, in order to placate such requests. Contact me within 30 days from the sale date and I will sift through my spoilage to find the right size for you. Please note that I am susceptible to bribery, and doing so may expedite the exchange process.

*Be sure to check out my bribery and incentives chart to find out what items work best for the applicable request.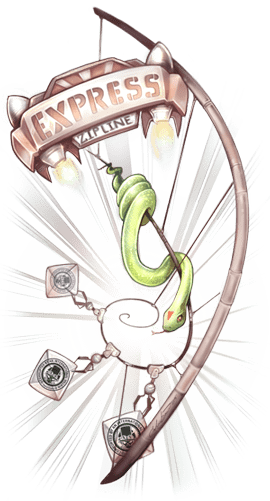 What if my shirt is damaged or I received the wrong item?

When one's mind is preoccupied with, say, the rumination of World Dominance for instance, mistakes can be made. If I happened to make an error, or if your item is flawed in any way, please notify me immediately via electronic mail within 30 days after receiving. Be sure to include your order number and a photograph of the damaged item(s). My lackeys will do everything in their finite powers to rectify your order. If, for some reason, I am unable to replace your item, a refund will be issued along with a free two-week enrollment in my acclaimed *Poison of the Month club.

*Not available in all areas. Some restrictions apply.

Can I make changes or cancel my order after it is placed?

Once your order is placed, it is bottled and sent, through the use of steam power, on a downward spiraling trajectory to my production department, deep within the belly of my Facility. If you need to make changes to your order, again, please notify me immediately using the appropriate dropdown selection on the contact form of this website to ensure the swiftest response possible. I can most likely get someone's attention down there, usually by throwing something heavy in their general direction, to implement such changes. Please be aware that I cannot guarantee the fulfillment of these changes or cancellations once your order has been processed, but I do pretty well. All canceled orders will be refunded by store credit only.

What kind of loot will I get if I help plunder the fanatical t-shirt addicts with one of my designs?

For starters, you will be spared when my plans of World Domination inevitably come to fruition. In addition, I pay all my cohorts a 10% royalty per items sold on my website for the duration of the sale.

The artist will be paid via PayPal usually within a few week's time after the sale ends.

As a bonus for becoming an official "Master Mind," the artist will also receive a gift certificate for their own personal use. Boom!

Please read my guidelines as well as my terms page for more details.

Where are you Baddies located?

I have safe-houses and hideouts scattered across the globe, where my loyal devotees wait patiently; ready to snatch up the world at a moment's notice. My headquarters, which I may have foolishly let slip before, is located just outside of New Orleans, Louisiana. It is tucked away deep in the swamplands, assiduously robed in darkness and guarded by genetically altered Gorillagators and blood-thirsty mosquitoes the size of blackbirds. Its precise location is known only to myself and a handful of my most trusted disciples, as I am the target of a nationwide manhunt headed by several Government Agencies and Columbia House Record Club.

All postal correspondence can be sent to my facade, where my team of mutant rat-bunnies retrieves my mail on a daily basis.

Just how evil are you?

That is a profound question and one that cannot be answered simply. To ask such a question would be like asking how fragrant a rose is, or the depth of an ocean. One's convictions about the duality of evil, as well as good, are something not to be deemed as incontrovertible axioms. While one may see me as a villain, another sees me as a liberator. The proclivity to favor one over the other must be allocated internally; in other words, it is for you alone to decide. How evil am I? I cannot answer that question. Only you can.

Now if you'll excuse me, I have to get back to work. Today is Torture Tuesday!