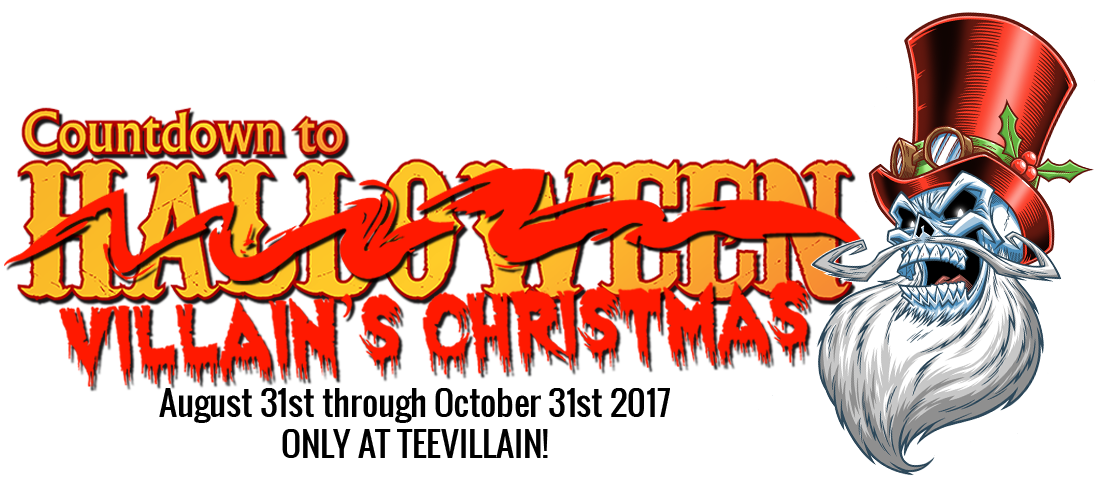 Autumn is rearing its temperamental head and that special time of year draws closer with each passing dawn. Halloween is a yearlong festivity at teeVillain, but when the moon swallows the sunlight on the final day in October, A Villain's Christmas will have arrived. We like to celebrate through the days that precede this monstrous masquerade with a countdown filled with ghoulish games and fiendish festivities including:
Free Treats (& Tricks)

Every design* featured from August 31st through October 31st will not only come with the standard teeVillain freebies you have come to love, but will include a bonus teeVillain collectible as well.
Deluxe Treats

One in every 100 customers will randomly receive a Deluxe Treat with their order! These Treats are given out completely random and may include anything from Mini Figs, Funko Pop Figures, Resin Statues, or anything else I (teeVillain) decide to bestow upon the recipient.
Estimated value $5 – $25 USD.
Games & Contests for Golden Gifts!


What would a Villain's Christmas be without a bit of cranial contention for all my devious Do-Badders? Here are a few of the games and contests I have in store for you:
• Show Me What You Goth
• The Heinous Hoarder
• Monster Pin-up Chase
• Cleaving Season
• Crystal Lake Connoisseur
• Thriller Killer
• & much More!
The winners of each contest will be added to teeVillain's "Naughty List", a right reserved only for the most malevolent. Each winner shall be granted a gruesomely gratifying gift, contingent upon the difficulty of the contest. In other words, the more challenging the chore, the more wretched the reward.
Details and Rules for Each Contest will be Announced Separately. 
Signup for the newsletter to stay informed about this and all upcoming events.
*excluding special combos or inventory sales.